A senior Hamas official on Thursday denied a report that Iran's supreme leader informed the leader of the Palestinian militant group that Tehran would not go to war with Israel on its behalf.
Citing unnamed Iranian and Hamas officials, Reuters reported on Wednesday that Iranian Supreme Leader Ali Khamenei told Hamas' leader Ismail Haniyeh during a meeting in Tehran in early November that, due to the lack of prior knowledge about Hamas' October 7 attack on Israel, Iran would not engage in direct conflict with Israel on behalf of the Palestinian group.
According to the report, Khamenei pledged to maintain "political and moral support" for Hamas but ruled out direct Iranian intervention in the ongoing war with Israel.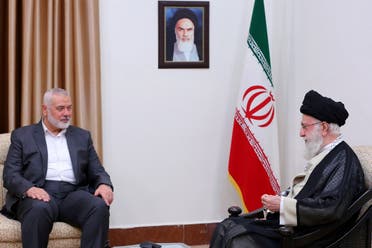 Iran's Supreme Leader Ali Khamenei meets with Palestinian group Hamas' top leader, Ismail Haniyeh, in Tehran, Iran, June 21, 2023. (West Asia News Agency via Reuters)
Khamenei also reportedly pressed Haniyeh to silence voices within Hamas advocating for increased Iranian and Hezbollah engagement in the battle against Israel.
Hamas' leader in Lebanon, Osama Hamdan, dismissed the Reuters report as "pure lies."
"Instead of providing information, this news agency has published worthless lies," Hamdan said in an interview with state news agency IRNA.
He said that Hamas had not issued any statements regarding Khamenei's meeting with Haniyeh and added that the meeting symbolized the "continuation of the good and distinct relationship between Hamas and the Islamic Republic of Iran."
Hamdan argued that such reports aimed to damage the image of Hamas and the broader "resistance axis," a network of regional militant groups supported by Iran, including Hamas, Lebanon's Hezbollah, various militias in Iraq and Syria, and the Houthi militia in Yemen.
On November 5, IRNA reported that Khamenei and Haniyeh held a meeting during which the Hamas leader briefed Khamenei on the latest developments in Gaza, including Israel's "crimes" in the Palestinian territory, as well as developments in the West Bank.
This marked the first known meeting between the two since the outbreak of war between Israel and Iran-backed Hamas on October 7.
The latest escalation of the Israeli-Palestinian conflict began when Hamas militants crossed into Israel from its southern border on October 7, killing 1,200 people and taking around 240 others as hostages, according to Israeli officials.
Retaliatory attacks by Israel on Gaza have killed more than 11,000 people, according to health authorities in the Hamas-ruled enclave.
Iran, a key source of financial and military support for Hamas, praised the October 7 Hamas attack while denying any involvement in its planning or execution.
Israel has long accused Iran of exacerbating violence by supplying arms to Hamas. Tehran refuses to recognize Israel and has made support for the Palestinian cause a fundamental component of its foreign policy since the Islamic Revolution of 1979.
Iran and Israel have for years engaged in a covert conflict, with Iran accusing Israel of orchestrating sabotage attacks and assassinations targeting its nuclear program.
Source: Al Arabiya