The Jordanian royal called out the West's double standards in condemning the killing of Palestinian civilians and blamed world leaders for failing to call for a ceasefire despite the mounting death toll in the besieged enclave.
Queen Rania of Jordan has accused the world of a "glaring double standard" in failing to condemn the civilian casualties in Gaza as Israel continues to shell the enclave in the ongoing war with Hamas.
"When October 7 happened, the world immediately and unequivocally stood by Israel and its right to defend itself and condemned the attacks that happened, but what we are seeing in the last couple of weeks, we are seeing silence in the world," she said in an interview with CNN's Christiane Amanpour on Tuesday.
"Countries have stopped expressing concern or acknowledging the casualties but always with the preface of declaration of support for Israel."
The queen said people in the Middle East and Jordan are shocked by the world's reaction to the mounting death toll in the Gaza Strip.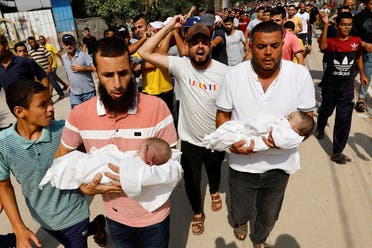 Mourners carry the bodies of Palestinian children from the al-Astal family, who were killed along with other family members in Israeli strikes, in Khan Younis, in the southern Gaza Strip October 22, 2023. REUTERS/Ibraheem Abu Mustafa
Israeli bombardments have killed more than 5,791 Palestinians, including 2,360 children, since Hamas' deadly October 7 attack on Israel, which claimed the lives of 1,400 Israelis and foreign nationals.
As of Tuesday alone, more than 700 Palestinians were killed, according to the health ministry's statement on social media.
'Glaring double standard'
The Jordanian royal called out the West's double standards in condemning the killing of Palestinian civilians and blamed world leaders for failing to call for a ceasefire despite the mounting death toll in the besieged enclave.
She said: "Are we being told that it is wrong to kill a family at gunpoint, but it is okay to shell them to death? There is a glaring double standard here."
She added that the Western world's "deafening" silence makes them complicit in the humanitarian crisis unfolding in Gaza as they continue to cover and support Israel's right to defend itself.
"Many in the Arab world are looking at the West as not just tolerating it but as aiding and abetting it," she said.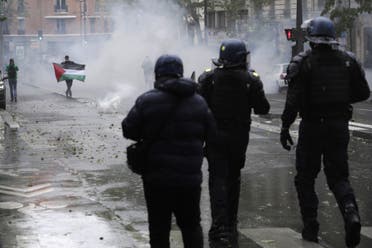 Queen Rania of Jordan criticized the ban on Pro-Palestinian protests in many western countries. France and Germany recently announced a ban on pro-Palestine protests. (File photo: AFP)
Queen Rania also called out the ban on pro-Palestinian protests in many European countries, adding that freedom of speech in Western democracies does not extend to Palestine.
"When people gather in support of Israel, they are exercising their right to assembly, but when they gather for Palestine, they are deemed terrorist sympathizers or antisemitic."
Jordan condemns killing of all civilians
The Jordanian queen said that her country condemns the killing of any civilian, whether Palestinian or Israeli, adding that it is also the position in the Islamic faith that prohibits the killing of women, children and the elderly.
According to the queen, every country, including Israel, has a right to defend itself, but not through war crimes and collective punishment.
Israel's full siege on Gaza
Israel declared a full siege on Gaza following the October 7 attack by Hamas and has since launched relentless airstrikes on the densely populated Gaza Strip and imposed a blockade on critical supplies such as food and water on the entire civilian population.
Israel says that it is targeting Hamas "terrorists" and has blamed the militant group for using Palestinian civilians as human shields.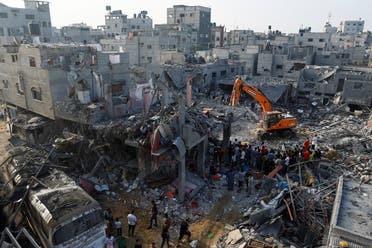 Palestinians search for casualties at the site of Israeli strikes on houses, in Khan Younis, in the southern Gaza Strip, on October 25, 2023. (Reuters)
Israeli airstrikes have indiscriminately attacked the strip, wiping out entire families, flattening residential neighborhoods, and targeting hospitals, churches, mosques and journalists.
"How is it self-defense? Why is it that when Israel commits these atrocities, it comes under the banner of self-defense but when there is violence by Palestinians, it is immediately called terrorism," Rania said.
No refugees in Jordan
Jordan does not want another mass displacement of Palestinians similar to the "Nakba" of 1948, the queen said, referring to the comments made by her husband, Jordan's King Abdullah II, who announced that pushing Gaza refugees to Egypt and Jordan would be a "red line."
"The people of Gaza are facing two choices: either they leave or they face death or collective punishment, a choice between expulsion or extermination, between ethnic cleansing and genocide, and no people should have to face that kind of choice," the queen said.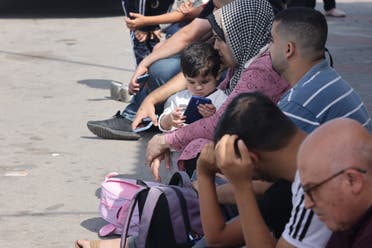 Palestinians with duel citizenship wait outside the Rafah border crossing with Egypt on October 21, 2023, as they wait for permission to cross.
She added most of the residents of Gaza are already refugees and Jordan does not want the displacement of Palestinians similar to the one in 1948.
"The Palestinians have the right to remain on their land," she said.
A sovereign Palestinian state
Queen Rania said that an independent Palestinian state living side by side in peace and security is the only solution to end the Israeli-Palestinian conflict, cautioning that there is no military solution to the issue except around a negotiating table.
"Wars are never won; victory is a myth that politicians make in order to justify [the] immense loss of life," she said.
"There can be no peace and stability in the Middle East without a political resolution."
Source: Al Arabiya